By Deb Mohesky
Dedicated to helping organizations coordinate and expedite their initiatives, the Chief Transformation Officer (CTO) is the newcomer to executive teams in healthcare systems.  Though a little-heard-of position only a few years ago, the rise of mergers between health systems and acquisitions of smaller hospitals by larger networks has created rapid change in the healthcare industry.  This has led many healthcare organizations to recognize the need for a dedicated individual to oversee the creation of solutions that are in alignment with the organization's overall values and strategic initiatives.
Coordinating initiatives.
Healthcare providers and health systems are often juggling multiple initiatives simultaneously.  Whether clinical, strategic, financial, or anything in between, a CTO serves as the overall coordinator of all initiatives within an organization.  This ensures that any solutions have a holistic approach, remaining rooted in the organization's mission, vision, and values.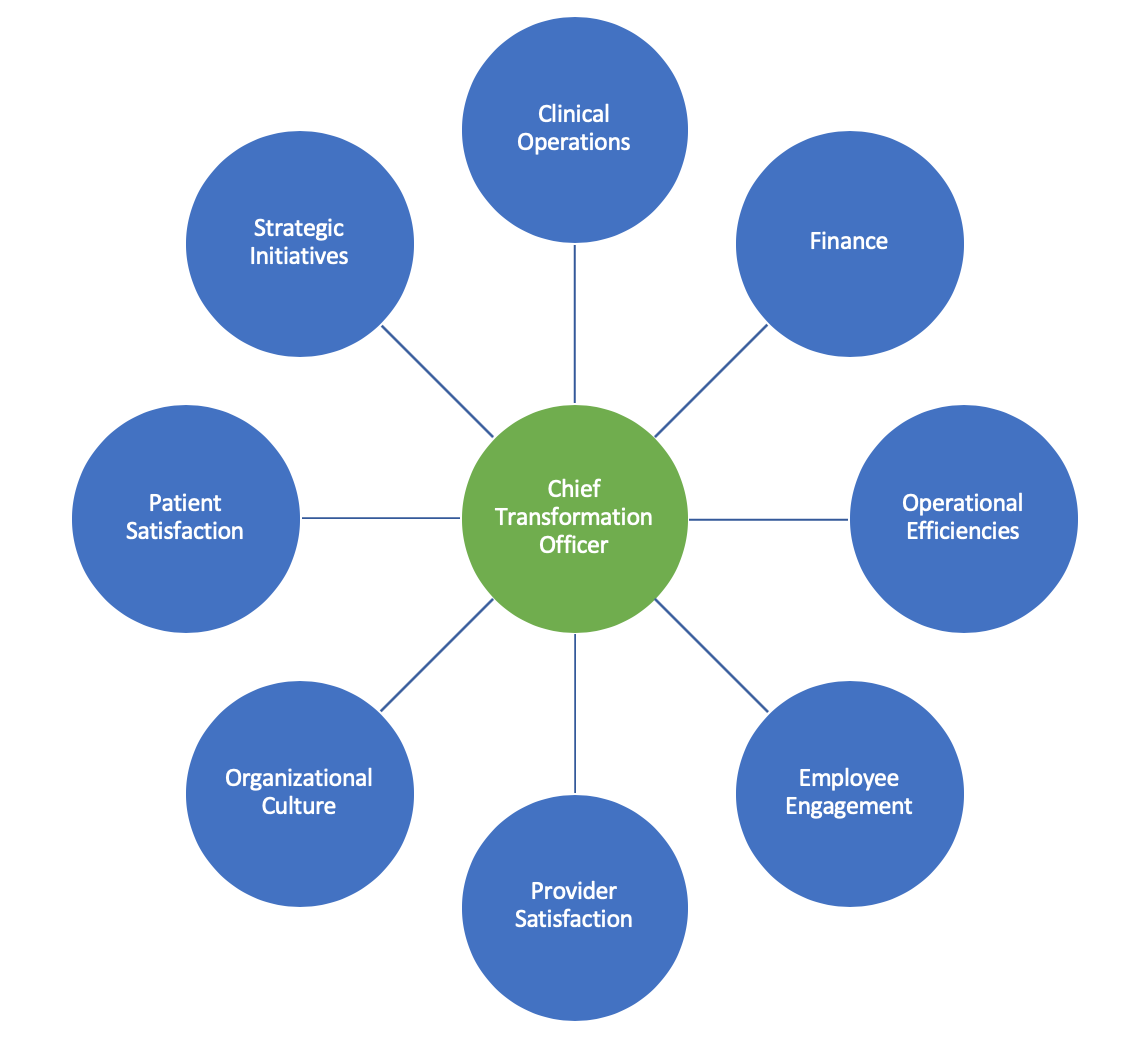 Bringing the right voices to the table.
A CTO operates as a full member of the healthcare organization's leadership team, but also as a thought partner or advisor.  He or she also identifies key stakeholders and ensures their input is heard, valued, and integrated into all solutions.
This is no small undertaking. It is highly advantageous to have a designated leader and partner to organize these initiatives, rather than adding the responsibility to another executive's already-full plate. The cooperation of a CTO frees up other healthcare executives to do what they do best while still being closely involved in the process.  As they focus on other essential tasks, they can have confidence that the organization's initiatives are moving forward.
Getting results—faster.
When there is one person overseeing all initiatives, organizations can see results quicker.  A CTO serves as a single point of contact and can create a sense of urgency and accountability that allows projects to be executed in a timely manner. Additionally, the CTO ensures that all change initiatives are anchored to the organizational culture.
Preparing organizations for change.
CTOs have the expertise to help organizations evaluate their "change-readiness."  Some initiatives are easier and more straightforward. Others are complex and will bring changes that will be challenging to adopt.  An experienced CTO can identify potential roadblocks and emphasize areas that will need greater focus and attention to ensure that teams are successful.
Monitoring metrics.
Metrics are essential for measuring progress, determining success, and applying lessons learned to future initiatives. But if metrics are not captured and tracked in a consistent manner, their helpfulness is diminished. The CTO is a central corridor for all data collection, ensuring that metrics are reliable, accurate, and useful.
In a time of rapid change and uncertainty in the healthcare industry, CTOs are an essential part of keeping health systems focused on their mission, vision, and values, and helping them move forward to continue to serve all stakeholders with excellence.